A game developed on the gambling backstreets of Hong Kong.
Classification
Family Card Game
Mechanics
Hand Management, Set Collection
Publication
Days of Wonder, 1990
Description
Gang of Four

is a game where each player tries to get rid of all their cards. Points are awarded at the end of each round when a player gets rid of their last card. Each remaining player gets points based on the number of cards left in their hand. If a player gets caught with too many cards the points can be doubled or tripled, etc. There are 64 cards in the deck consisting of 3 suits: red, yellow, green, and 4 special cards: red dragon, yellow phoenix, green phoenix, and a multicolored number one. Each suit has 2 sets of cards, one through ten.
Play begins with whoever holds the multicolored number one. It can be played in any legal combination. A legal combination consists of things like, pairs, 3-of-a-kind, runs, or a "

Gang of Four

". Each following player must then play a combination that beats the previously played combination or they must pass. The key is that each play must be the exact same number of cards as played in the previous combination but at a higher rank. Once every player has passed then the last person who played gets to start a new sequence.
The only time an active player can play a different number of cards then previously played is when they play a

"Gang of Four"

. A "
Gang of Four" is 4-of-a-kind.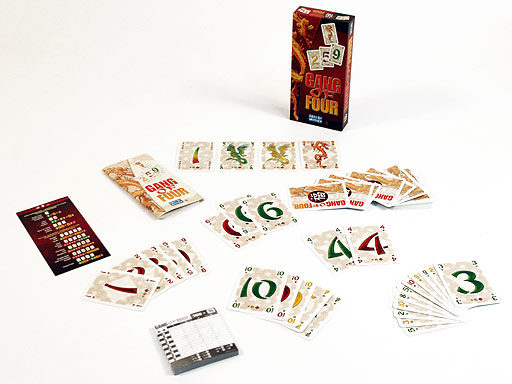 ~
~
~
~
~
~
~
~
~
~
~
~
~
~
~
~
~
~
~
~
~
~
~
~
~
~
~
~
~
~
Continue to check in for the latest in board games.
~
~
~
~
~
~
~
~
~
~
~
~
~
~
~
~
~
~
~
~
~
~
~
~
~
~
~
~
~
~
Come and visit us at
30 NW 2nd Street in Historic Downtown Gresham
. We have a full range of family games, strategy games, Euro-style games, war games, card games, dice games and more. Also for the puzzle enthusiasts we carry quality puzzles from Ravensburger, White Mountain, and Cobble Hill.
We proudly serve Gresham and the greater Portland and Vancouver area.