A little of this and a little of that - lot's of restocks.
Here are the games that came in this week:
Hotshots
Fireside Games
From Fireside Games is
Hotshots
, the latest in their line of cooperative board games. Hotshots is for 1 to 4 players and plays in about an hour.
You and your friends are crew of Hotshot fire fighters call to fight a raging forest fire. You will utilize your special abilities, good teamwork, and dice-rolling to contain and extinguish the fire to win the game.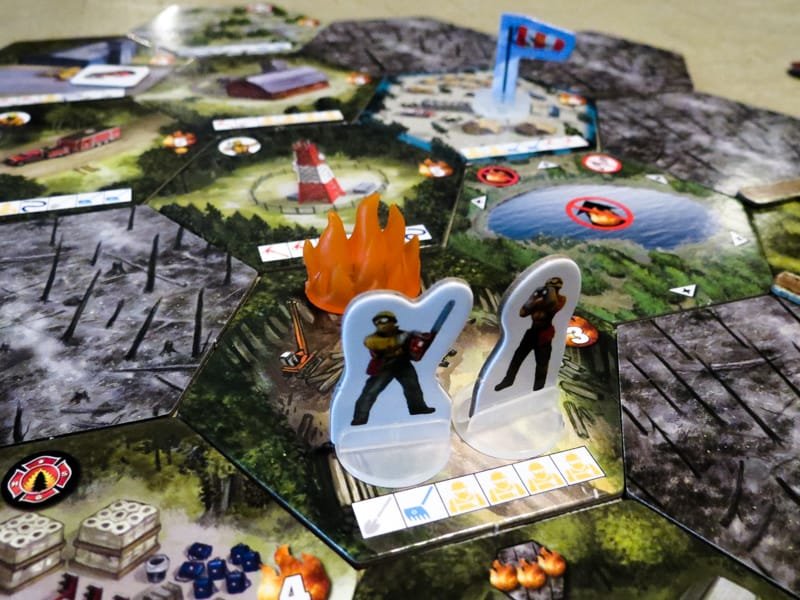 Splendor Cities of Splendor
Space Cowboys
Cities of Splendor
is the first expansion to the base game
Splendor
, a set collection game with multiple layers of sets to collect, an easy rule set, quick but deep tactical game play and great components.
In the
Cities of Splendor
expansion you will discover these 4 new ways to play:
The Cities
- New double-sided objective tiles that replace the Noble tiles. The requirements to obtaine combine points and/or development cards. And you must satisfy one in order to win the game.
The Trading Posts
- Adds to the engine-building aspect with the Route to the Orient board. Unlock special player powers on the board by collecting the appropriate development cards.
The Orient
- Adds 30 Orient development cards that offer unique and unexpected abilities, such as copying the gem bonus of another development card or reserving a Noble tile (when you're not including The Cities option).
The Strongholds
- Speed up ;your development by building strongholds and by limiting your opponent's progresses.
Sheriff Of Nottingham
Merry Men
Arcane Wonders
Sheriff Of Nottingham: Merry Men
is an expansion to the base game
Sheriff Of Nottingham
, an exciting card game of bluffing, bribery and smuggling.
The
Merry Men
expansion is modular in nature, allowing players to add some, or all of the extra content to their games of
Sheriff Of Nottingham
. Modules include: Laws, Special Orders, Black Market, Merry Men, and a 6th Player expansion.
Watch this GenCon preview video for a peek at the Merry Men expansion.
Carcassonne: Traders & Builders

Carcassonne: Abbey & Mayor
~
~
~
~
~
~
~
~
~
~
~
~
~
~
~
~
~
~
~
~
~
~
~
~
~
~
~
~
~
~
Continue to check in for the latest in board games.
~
~
~
~
~
~
~
~
~
~
~
~
~
~
~
~
~
~
~
~
~
~
~
~
~
~
~
~
~
~
Come and visit us at
30 NW 2nd Street in Historic Downtown Gresham
. We have a full range of family games, strategy games, Euro-style games, war games, card games, dice games and more. Also for the puzzle enthusiasts we carry quality puzzles from Ravensburger, White Mountain, and Cobble Hill.