These exciting games arrived in this week.
Blackout Hong Kong
Eggertspiele
From the designer of
Mombasa
and
Great Western Trail
, Alexander Pfister now brings us
Blackout Hong Kong
,
a 1 to 4 player strategy game.
The lights are out in Hong Kong and it is up to you to volunteer to get the resources needed to make the city safe for all. Each player will receive a small band of volunteers to lead. Your goals, and there will be many, will be to gather food, medicine, tools, fuel, water, and knowledge to help you complete these goals. Eventually, a player will be able to call a section of the city secure, score a bunch of points, and then move on to another section of the city.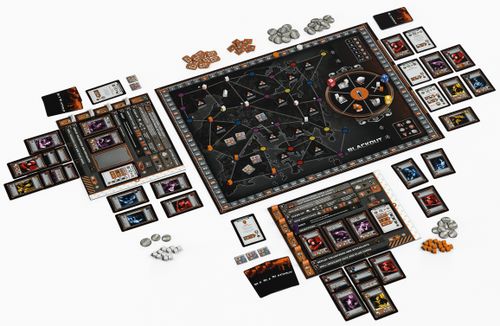 Blackout Hong Kong
Blackout Hong Kong
is a typical Alexander Pfister design. There is a lot going on. Each player will have 3 crew working in the city of each round. One crew member is added to each crew each turn. The bigger the crew the more they can accomplish. Once everyone used all 3 of their crews they check for crew members left in reserve. If that number is low it will be necessary to disband your largest crew and put them all back in reserve. Each player will be working on a series of goals they have selected from an ever-changing tableau of goal cards. Players gain points for securing sections of the city and for completing goals. the player with the most points will be the winner. The game also includes a 5 chapter campaign made for more adventurous volunteers.
Godsforge
Atlas Games
New from Atlas Games is
Godsforge
, a simultaneous crafting and combat game for 2 to 4 players. All players roll their dice, craft their spells, and launch their attacks at the same time. There is no downtime.
Players roll dice and play cards to set up defenses, collect resources, and attack their opponents. You win if you are still alive after reducing all of your opponents to zero life or less.
Play follows a sequence of four phases: Upkeep, Forge Roll, Reveal, and Attack. Within each phase all players act simultaneously. That is, everyone rolls their dice at the same time, then everyone plays a card at the same time, then the played cards all attack at the same time. No player may move on to the next phase until all players are done with the current phase. All four phases constitute one round. When all phases are complete, a new round begins.
Godsforge
Ganymede
Lucky Duck Games
New in from Lucky Duck Games is
Ganymede
,
a competitive development and tableau-building game for 2 to 4 players. It plays 10 minutes per player.
Ganymede
Players are corporations specialized in transporting Settlers to Ganymede, where the Settlers Ships launch site is located. These Ships will lead the Settlers to distant planets of the galaxy ...

In

Ganymede

, resources (Settlers) are not spent but transported from a location to another thanks to the Shuttle cards used by players during the game. Settlers return to the reserve once a completed Settlers Ships takes off, rewarding players with victory points.
Museum
Holy Grail Games
New from Holy Grail Games is
Museum
, a set collection game that allow players, as the curators to choose the playing style that suits them.
Set in the 1900's , the game is all about the golden age of museums, when worldwide travel was becoming a reality and demand for exotic displays of objects from faraway lands was high.
Museum
Players build up their personal museums with artifacts gathered from four different continents. To display them in your Museum's galleries, it must be paid for with one or several cards of equal or higher value, which are put into your warehouse pile. Any artifact in your warehouse while still in your possession can be taken by one of your opponents.



Each artifact card has a

v

alue that represents the number of points you gain

by adding it to your galleries. To gain even more points, you can

create collections by positioning cards adjacent to one another

on your player board, much like in a real museum. Collections can be based on one of the twelve different civilizations in the game, or on the 6 different archaeological domains, so combine your cards creatively to get the highest score.
Bugs On Rugs
Kids Table Board Games
New in our selection of kids games is
Bugs On Rugs
, a very cute set collection and card drafting card game for 2 to 5 players.
Bugs On Rugs
Players take turns drafting bug cards to their hand to make sets. At the end of the game players reveal their bug collections. The player who has made the most valuable hand of creepy crawlers wins.
~
~
~
~
~
~
~
~
~
~
~
~
~
~
~
~
~
~
~
~
~
~
~
~
~
~
~
~
~
~
Continue to check in for the latest in board games.
~
~
~
~
~
~
~
~
~
~
~
~
~
~
~
~
~
~
~
~
~
~
~
~
~
~
~
~
~
~
Come and visit us at
30 NW 2nd Street in Historic Downtown Gresham
. We have a full range of family games, strategy games, Euro-style games, war games, card games, dice games and more. Also for the puzzle enthusiasts we carry quality puzzles from Ravensburger, Pomegranate, White Mountain, and Cobble Hill.
We proudly serve Gresham and the greater Portland and Vancouver.